Book: Felaheen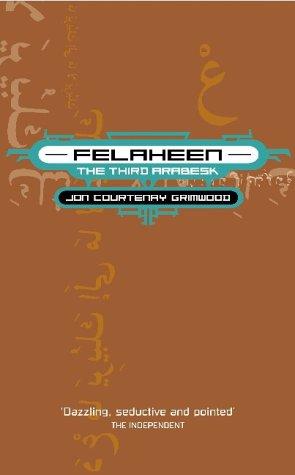 Arabesk Book 03
Jon Courtenay Grimwood
For Jamie CG, Sam B and for my father, who has lived many of the things I only write about.
I owe you all, as ever . . .
"Since the prince needs to play the animal he chooses among the beasts the fox and the lion, because the lion cannot protect itself from snares and the fox cannot protect itself from wolves. Therefore the prince must be a fox to recognize traps and a lion to frighten the wolves."
–Machiavelli
"If a lion could speak, we could not understand him . . ."
–Ludwig Wittgenstein
"Unlike foxes."
–Tiri
Monday 14th March
"Dig," said the fox.
So Ashraf Bey dug. Fingers bleeding and grit compacted beneath his broken nails. With only their sticky rawness to persuade him that he was still in the world of the living.
"Dig harder."
So he did that too. Handful after handful of coarse salt tumbling into his face, blinding his eyes and filling his mouth, half-open to drag oxygen from dead, fetid air. The voice in his head had promised to help Raf reach the surface but only if he obeyed every order without argument. Foxes were good at digging their way out of traps apparently.
Raf's biggest problem before he got buried alive was that no one had told him how far his authority went as the new Chief of Police for Tunis, so he'd decided to assume it went as far as he wanted; which was how he'd ended up . . .
"Like this, really."
Raf wasn't too worried about talking to an animal that didn't exist. For a start he had a number of hallucinogens infecting his bloodstream, from an acid/ketamine mix to a particularly virulent grade of skunk. And besides, he knew Tiri was just an illusion.
They'd been through this. It was sorted out.
According to Tiri a thousand camels once fell through the crust of Ifriqiya's great salt lake, lashed to each other in a baggage train. With the beasts went their cargo of dates, the master of the caravanserai and those who led the animals. Only one man survived, a slave who was driven into the desert for lying. His untrustworthy testimony had been that nothing existed below the ground over which they'd walked but void. What he'd thought was endlessly real was no more solid than the skin of a drum or the shell of an egg sucked dry by a snake.
"So you see," said the fox, "things are . . ."
". . . Never what they seem." Raf punched one fist through earth to reach air. "So you keep telling me."
Later, when he had dry-vomited fear from his belly, wiped dirt and tears from his face and come to terms with the fact that a surprisingly small hole in the ground near his feet represented victory over death, Ashraf Bey came to a deeper realization.
He stank.
There was no doubt about it. Rancid sweat and the smell of excrement rose like heat from his body. And with it came the stink of the grave. A sour, lingering foulness that varnished his nakedness, clogging the inside of his nostrils and infesting even the shafts of his blond hair.
Maybe it was this smell that drew the ghosts or perhaps the drugs in his blood cleared Raf's eyes to let him glimpse inside the egg. Whatever, when he set out across Chott el Jerid the ghosts went with him. Strangers who looked vaguely familiar. Some man he'd seen in a queue. A Chinese boy, both too vague and strange to coalesce. Lady Jalila he recognized. Elegant in her sand-coloured silk jacket stretched across ample breasts. Eyes made up, lips perfect, neck broken . . . She started to say something, then went, her words and ghost ripped apart in a gust of night wind.
Then the fat man came.
Which was, Raf realized, probably inevitable. Of all the people he'd killed it was Felix Abrinsky who mattered the most.
"You okay, blondie?"
Raf put one step doggedly in front of the other. Shaded his eyes from the sight and tried to pretend he wasn't crying. "What do you think?" he said.
"You know how it goes," said Felix. "These days I don't have much of a brain for thinking." And with that he limped away, dragging the foot that had been shattered half a year before, along with most of his skull, in a bomb blast meant for the man he'd just been walking beside.
Thanks to the Pathology Guy for information on human decomposition. Hassan in Tunis for taking me up onto the roof of the souk to look at the Great Mosque of Zitouna. Aziza and Hafida, cooks from the Maison Arabe (Marrakech) for not laughing too much at my attempt to make chicken tagine. Antony Bourdain for writing the best insider book on kitchens ever written (plus some seriously sick/slick crime novels). The Yugoslav girl with no knickers in the kitchens at Oslo airport for giving me the idea of the knife. And the soldier on the train outside Palermo who insisted on showing the backpacker opposite his scars.
A tip of the hat to the usual lunchtime crowd, including Kim Newman, Paul McAuley, China Miéville, M. John Harrison and Pat Cadigan (all of whom I'd happily buy in hardback). New Scientist again, obviously enough, for the usual reasons. Farah Mendlesohn, for providing supper every time I finish a script. JJ for commissioning the Ashraf Bey novels in the first place. Juliet Ulman for buying the books in the US and for arguing (very calmly) about point of view.
Finally, thanks to Moritz, for letting me steal his name on a couple of occasions. (The deaths were nothing personal . . . )
Born in Malta and christened in the upturned bell of a ship, Jon Courtenay Grimwood grew up in Britain, the Far East and Scandinavia. Currently working as a freelance journalist and living in London and Winchester, he writes for a number of newspapers and magazines, including the Guardian. He is married to the journalist Sam Baker, editor of UK Cosmopolitan.
Visit the website www.j-cg.co.uk.
---