Book: Changing My Mind: Occasional Essays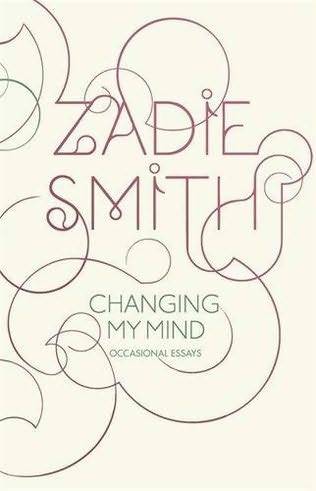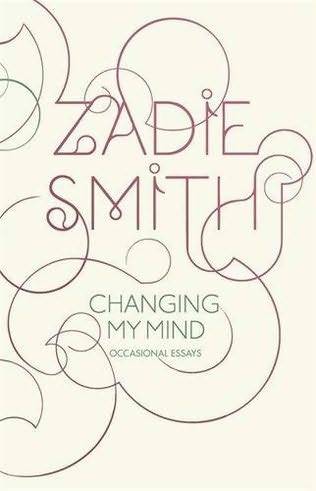 Changing My Mind: Occasional Essays
Copyright © Zadie Smith, 2009
The time to make your mind up about people is never!
– TRACY LORD, The Philadelphia Story
You get to decide what to worship.
– DAVID FOSTER WALLACE
This book was written without my knowledge. That is, I didn't realize I'd written it until someone pointed it out to me. I had thought I was writing a novel. Then a solemn, theoretical book about writing: Fail Better. The deadlines for these came and went. In the meantime, I replied to the requests that came in now and then. Two thousand words about Christmas? About Katharine Hepburn? Kafka? Liberia? A hundred thousand words piled up that way.
These are "occasional essays" in that they were written for particular occasions, particular editors. I am especially grateful to Bob Silvers, David Rem nick, Deborah Treisman, Cressida Leyshon, Lisa Allardice and Sarah Sands for suggesting I stray into film reviewing, obituaries, cub reporting, literary criticism and memoir. "Without whom this book would not have been written." In this case the cliché is empirically true.
When you are first published at a young age, your writing grows with you-and in public. Changing My Mind seemed an apt, confessional title to describe this process. Reading through these pieces, though, I'm forced to recognize that ideological inconsistency is, for me, practically an article of faith. As is a cautious, optimistic creed, best expressed by Saul Bellow: "There may be truths on the side of life." I keep on waiting, but I don't think I'm going to grow out of it.
– Zadie Smith
New York, 2009
Fourteen – SMITH FAMILY CHRISTMAS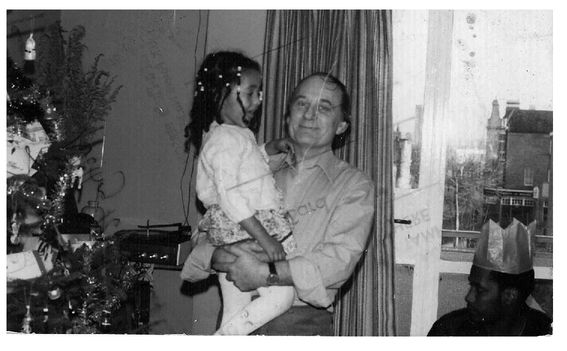 This is a picture of my father and me, Christmas 1980 or thereabouts. Across his chest and my bottom there is the faint pink, inverted watermark of postal instructions-something about a card, and then "stamp here." Hanging from the tree like a decoration more mirror writing, this time from my own pen. Does it say Nothing? Or maybe Letting? I've ruined this photo. I don't understand why I can't take better care of things like this. It's an original, I have no negative, yet I allowed it to sit for months in a pile of mail on my open windowsill. Finally the photo got soaked, imprinted with the text of phone bills and Post-it notes. I felt sick wedging it inside my OED to stop the curling. But I also felt the weird relief that comes from knowing that the inevitable destruction of precious things, though done in your house, was not done by your hand. Christmas, childhood, the past, families, fathers, regret of all kinds-no one wants to be the grinch who steals these things, but you leave the door open with the hope he might come in and relieve you of your heavy stuff. Christmas is heavy.
Anyway, it's done now. And this is me and my dad one Christmas past. I'm five and he's too old to have a five-year-old. At the time, the Smiths lived in London in a half-English, half-Irish council estate called Athelstan Gardens, one black family squished between two tribes at war. It was confusing. I didn't understand why certain football games made people pour into Biddy Mulligan's pub and hit other people over the head with chairs and bottles, and I didn't get the thing about people pouring into the Prince Charles the next day and repeating the procedure. I didn't get the men who came around collecting for the IRA on Christmas Eve, and I didn't have to give them anything either-once they saw my mum, with her exotic shift dress and her cornrows, they respectfully withdrew, thinking we had nothing to do with their particular argument. In fact, my parents were friends with an Irishman who gave us a homemade fruit bowl this same Christmas and then the following winter betrayed the spirit of Christmas by making a different kind of homemade gift with which he tried to blow up No. 11 Downing Street. We knew nothing about the bomb until years later, but we all knew about the ugly fruit bowl, ceramic and swirly and unable to stand straight on a tabletop. This was filled with nuts and laid on the carpet to limit the wobble. It's out of the frame in this photo, on the floor by Dad's feet. My brother Ben, a little fat thing back then, has it between his legs like Buddha with his lotus flower. Ben was always on food detail in the war that is Christmas. I did, or overdid, the decorations (as you will note, the tree is bending to the left under the weight of manga-eyed reindeer, chocolate Santas, swollen baubles, tinsel, three sets of lights and the presents I tastefully nestled in the branches). Dad cooked. Mum marked out television schedules with a pen. Ben ate the food. Just as Joseph tended to the Virgin Mary, we tended to Ben, making his comfort our first priority. He ate what he needed, and whatever was left we ate. I think it's Carole King's Tapestry on the record player. But which song? "It's Too Late" would make thematic sense-my dad's smile has the let's-just-get-through-this tension of a code-red marriage. As for the "Natural Woman" Christmas or the "You've Got a Friend" Christmas-these predate my consciousness. But they must have existed, what with Ben being a September baby and me October. Those were the sexy Noels, delivering babies like presents nine months later. By contrast, Luke, my youngest brother, came in July and is still unborn in this photo. I've always assumed he was the result of awe-haven't-had-sex-in-five-years birthday treat (Dad's birthday is in late September), and by the time he turned up, Blood on the Tracks had replaced Tapestry as the family Christmas soundtrack. Maybe you wonder about the black man in the pink hat. I wonder about him, too. I think he's an uncle of mine by the name of Denzil (spelling uncertain). My mother claims an uncertain number of siblings, certainly more than twenty, most of them-in the Jamaican parlance-"outdoor children," meaning same father, different mother. Denzil must have been one of these, because he was six foot seven, whereas my mother is five foot five and shrinking, as I'm sure I will, and as my grandmother did before us.
This Christmas was the only time we ever met each other, Denzil and I. He was the gift that kept on giving, with his strange patois and his huge feet and the piggyback rides he conducted out on the balcony because the ceilings were too low. Outside was where he wanted to be anyway-you can tell that much from the look of infinite weariness he's giving my dad's left elbow. Poor Denzil; off the plane from Jamaica into bitter England, and stuck in the most cultish, insular day in the nuclear-family calendar. Families speak in semaphore at Christmas; the falcons are the only ones to understand the falconer, and something dismal is slouching toward Bethlehem. It's called The Truth About What Happens to Your Family When No Member Is Allowed to Leave the House. Outsiders do best if they seeketh neither enlightenment nor the remote control.
Denzil found this out when he attempted, on this most sacred of days, to do the things we could not do because we'd always done them another way, our way-a way we all hated, to be sure, but could not change. Denzil wants to open a present on Christmas Eve-don't do that, Denzil. Denzil wants to go for a walk-I'm so sorry, Denzil, that's impossible. We'd like to, but we just can't swing it. Why not? Because, Denzil. Just because. Because like the two parts of Ireland, because like the Holy Trinity, because like nuclear proliferation, like men not wearing skirts, because like brandy butter.
Because that's the way we do things around here, Denzil. We don't eat till four o'clock, we open the smallest presents first, we have to watch two MGM musicals when we wake up, followed by a Jimmy Stewart movie, and then settle down in front of a feted sitcom's "Christmas special," which is also the time-read my lips-when we begin the search for batteries to go into the many things we have bought that require batteries we forgot to buy. Don't mess with us on this, Denzil. The Smiths are not for turning. It's our way or the highway. We want Christmas, dead or alive.
I make it sound bad. In truth, we had great times. As great as anybody's. Certainly better than Denzil's the year he got his own place and phoned us to say he'd killed a partridge in the backyard with a slingshot and just finished eating it like a proper English gentleman (it was a London pigeon, of course). Oh, we Smiths are ardent seekers after the spirit of Christmas, and we do not listen to Iris Murdoch's sensible analogical advice: "Good represents the reality of which God is the dream." We're chasing the dream, baby.
But we do sense the more difficult truth: that Family represents the reality of which Christmas is the dream. It is, of course, Family (messy, complex, miserable, happy, so many gradations of those last two words) that is the real gift, beneath the wrapping. Family is the daily miracle, and Christmas is the enforcement of ideals that, in truth, do not matter. It would be tempting therefore to say, "Well, then ditch Christmas!" the same way people say "Ditch God" or "Ditch marriage," but people find it hard to do these things because they feel that there is more than a ghost in these machines; there is an animating spirit.
Santa help me, but I believe this, too. You know you believe it when you start your own little family with some person you met four years ago in a bar, and then he tries to open the presents on Christmas Eve because that's what he did in his family and you have the strong urge to run screaming from the building holding your banner about the end and how it is nigh. It is a moving and comic thing-a Murdochian scuffle between the Real and the Dream-to watch a young couple as they teeter around the Idea of Christmas, trying to avoid internecine festive warfare.
Of course, sometimes the angel of history gets the better of you; one part of your family simply secedes from the other. When my parents divorced, seven years after this photo, the Christmas war became briefly more violent (which day, which house, which parent) and then grew subdued, because peace is what you want, in the end, at Christmas. On that one day you value it more than your life. Nowadays, we all get into a car with presents in the trunk, quietly drive to my father's in Felixstowe, where two people divorced fifteen years ago rediscover that cycle whereby "It's Too Late" doubles back onto itself and becomes "You've Got a Friend." It's called a cease-fire.
Then, last year, out of nowhere hostilities resumed. Not with my dad, who is beyond such things now, but between mother and brood. That ancient battle poor Denzil couldn't understand, the one about not bloody leaving the house on Christmas Eve, which is the one day you're meant to spend with your bloody family, the one day your mother asks for a little quality time, et cetera, hit the house like a grenade, and everybody yelled a lot and walked out and I spent Christmas Eve sleeping in my friend Adam's bath.
I see now the mistake we made. We thought that because we'd reached adulthood, Mum wouldn't mind if we ditched Christmas-the ritual, the dream, the animating spirit, the whole shebang-and just paraded around town at nightclubs and other people's dinner parties as if we were individuals living in the free world. Don't ever think that. Where women are concerned (mothers especially), Zora Neale Hurston had it right: the dream is the truth. After all, for 364 days of the year you live in the Real. Your mother is asking you only for this one day. It's nothing, it says on my photo, nothing but letting; it's about letting Christmas in, letting go of that Kantian will of yours, getting freaky like Iris, giving it up to a beautiful, insane, mystical idea. So you damaged the photo of Christmas Past-well, let's try it again: Christmas Present, Christmas Future. "War is over, if you want it," sang John and Yoko. So let it happen.
On the sixtieth anniversary of the end of World War II, the BBC asked members of the public to submit their personal war stories. These were to be placed online as a historical resource. I helped my father to write his account and then, using the material I had gathered, expanded it into a newspaper article, of which this is a revised version.
I knew my father had "stormed the beach at Normandy." I knew nobody else's father had-that job had been wisely left to their grandfathers. That's all I knew. As a child, the mildewed war came to me piecemeal through the usual sources, very rarely from him. Harvey never spoke about it as a personal reality, and the truth was I didn't think of it as a reality, but only as one of many fictional details woven into the fabric of my childhood: Jane Eyre was sent to the red room, Lucy Pevensie met Mr. Tumnus, Harvey Smith stormed the beach at Normandy. Later, in my twenties, small facts escaped, mostly concerning his year spent in Germany helping with the reconstruction. But Normandy stayed as fictional to me as Narnia. "Stormed!"-this made no sense. A sentimental man, physically gentle, pacifistic in all things and possessed of a liberal heart that does not so much bleed as hemorrhage. It is perfectly normal to phone my father around 6:30 in the evening and find him distraught, reduced to tears by watching the news.
Then one recent adult summer, I happened to find myself in Normandy, visiting an American poet. She was writing a verse sequence about the layers of social history in the area and took me on a day trip to the beach, where we swam and sat in the sun. It was stupidly late into my swim before it occurred to me that this might be the beach Harvey had landed upon, fifty-nine years earlier. I mentioned it to the poet, and she asked after details I was shamed to admit I didn't have. Our day turned historical. She showed me Juno Beach, the cliffs in which the snipers crouched, the maze of hedgerows that proved so lethal. Finally, the American cemetery. Thousands upon thousands of squat white crosses, punctuated by the Star of David, line up in rows on the manicured grass. You can't see the end of it. I'm my father's daughter: I burst into tears.
I returned home, full of journalistic zeal. I bought a Dictaphone. This seemed like half the job done already. I was the gutsy truth seeker, uncovering the poignant war story of a man who found it all too painful to talk about. Except I found my father not especially resistant to the idea. True, he had never really spoken about it-then again, I had never really asked. He laid out a fish lunch in his garden in Felixstowe and carefully set up the microphone on its little stand.
"It's funny you mention it, actually." Why was it funny? "Well, I've been thinking a bit about it, what with the anniversary. It's only now that I've started thinking: I would like my lost service medals back… you know, for next year. Just be nice, wouldn't it." But why didn't you ask for them back, years ago? "Well… they charge you for them, don't they," said Harvey doubtfully, and returned to filleting his grilled sole.
A struggle my father has always had: between hating war and having been in one, between being committed to, as he puts it, the future, and at the same time not wanting to be entirely forgotten. I think he was surprised, at this late hour, to find he wanted his medals back. I was surprised I wanted to see them. A kindly veteran who lives opposite helped us send off the necessary paperwork. When the medals arrived, I came up to Felixstowe and we sat about staring at them. These moon rocks laid out on the kitchen table.

I was a bad journalist to my father, short-tempered, bullying. He never said what I wanted him to. Each week we struggled as I tried to force his story into my mold-territory previously covered by Saving Private Ryan or The Great Escape-and he tried to stop me. He only wanted to explain what had happened to him. And his war, as he sees it, was an accidental thing, ambivalent, unplanned, an ordinary man's experience of extremity. It's not Private Ryan's war or Steve McQueen's war or Bert Scaife's war (of whom more later). It's Harvey Smith's war. If it embodies anything (Harvey's not much into things embodying other things), it is the fact that when wars are fought, perfectly normal people fight them. Alongside the heroes and martyrs, sergeants and generals, there are the millions of average young people who simply tumble into it, their childhood barely behind them. Harvey was one those. A working-class lad from East Croydon at a loose end. At seventeen, he was still too young to be drafted, but when he passed the recruiting office on the high street, he went inside. They took his details and told him he'd be called up when he was seventeen and six months. "Made me feel a little bit special-and when you're a teenager, that's what you want, isn't it?" In November 1943 initial training was completed. They moved to Suffolk, where Harvey joined the 6th Assault Regiment RE and was mobilized the week after Christmas. "That meant our unit were officially at war. I think that's right. It meant that they could shoot you if you deserted, or something."
There followed six months of regimental training and tank training, how to ride in one, how to sleep under one, how to service it when it broke down. Harvey was still not expecting to see action before 1945. You had to be nineteen. When the rest of the unit moved to Calshott, he went to Felixstowe. (He ended up there once again, in the late 1990s, after his second divorce. Sometimes he refers to his life's journey as "the round-trip.")
"I was with the old buggers, like Dad's army. But I was only there three weeks. The law changed; suddenly you could be eighteen. So that was me." Harvey's war was on. He spent that last month hiding in the Fawley woods with his regiment. You can't see the stars like that in Croydon. On June 3, he listened to the final briefing with the rest of his regiment. "That's when they told us the truth, where we were going, King Beach, and when. I was hoping to be in one of the tanks. But last minute, I was assigned to be the radio man for the CO's truck. All the boys thought that was pretty funny. Me stuck alone with the CO."
On the fifth of June at about 11 P.M., they set off. They were meant to land on the morning of the fifth, but the conditions had been too dreadful. They were still dreadful-everybody was sick. In the middle of the crossing, Harvey saw his first British warship, a huge shadowed beast, moving through the water. As he watched, it shot off a broadside from its sixteen-inch guns, rocking sideways in the recoil. "I knew then. I hadn't known before. I knew this was serious."
It was not to be as serious for Harvey as it had already been for thousands. He didn't land at 6 A.M., he didn't land in a tank (many of these had grenades thrown into them and "brewed up," exploding from the inside) and he didn't land as an American at Omaha. Though he didn't know it, already he was steeped in luck. He approached the relatively quiet King Beach at midday and waited while his CO argued with an American general onboard who was convinced it was too dangerous to land. It was two hours before he drove onto the beach. So much experience that should be parceled out, tenderly, over years, came to my father that day, concertinaed into twenty-four hours. First time he'd left England. First time he'd been at sea. First time he'd seen a dead body.
"I was looking out from the back of the truck. Young dead Germans were everywhere. They looked like us; they could have been us. It was gruesome. And we'd heard by then that Major Elphinstone, our major, had died the minute he hit the beach. He stuck his head out of the tank to look about and-pop-a sniper shot him in the face. But you must write that I had an easy day. I had absolutely an easy day. The work had been done, you see. It'd been done. I wasn't like Bert Scaife."
Who?
"He was this bloke, he was a legend by the end of the day-caught so many men, shot all these mortars off-he got decorated later. I was no Bert Scaife. Not by a long way."
Harvey's truck rode up the lanes, unharmed. There were dugouts everywhere and people shooting at him, but with the help of the radio and excellent information, they made it safely through the worst. They stopped at a monastery that had been commandeered by the Nazis and now stood abandoned. There was a dead man in Nazi uniform lying in the hallway. My father bent down to turn him over and would have joined him in oblivion if it hadn't been for his CO stopping his hand just in time. The body was booby-trapped. Coiled within it, my future, and that of my brothers, and the future of our future children, and so on, into unthinkability.
He slept that night in a fragrant orchard. And what else? "Well, I stopped in Bayeux a bit after that. Bought a pen." At this point, my patience with my father bottomed out. He looked at me helplessly. "It's so hard to remember… I only remember the obscure stuff."
So now I started playing hardball; now I picked the Dictaphone up and demanded to know about the shrapnel, for Harvey has some shrapnel in his groin, I know he does, and he knows I know. A doctor found it in a routine X-ray in 1991, forty-seven years after Harvey thought it had been removed. I was sixteen at the time, EMF had a hit with "Unbelievable" and I was wearing harem pants. If he'd come home and told me he'd been a waiter on the Titanic it couldn't have seemed more fantastical.
"Oh, that was different. That was just after I bought the pen."
***
A few days after the pen incident, then, my father was again in an orchard in the middle of the night. He decided to make tea, the way you did during the war, by filling a biscuit tin full of sand and a little petrol and setting that alight. He shouldn't have done that. The flames were spotted and a mortar bomb sent over. He doesn't know how many men died. Maybe two, maybe three. I leaned forward and turned up the volume. For hadn't I brought this little contraption here for my own purposes? Not to record my father's history, and not even to write this article, but precisely for this revelation, for this very moment or another like it; in the hope of catching a painful war secret, in the queer belief that such a thing would lead to some epiphanic shift in my relationship with my father. There is such a vanity in each succeeding generation-we think we can free our parents from experience, that we will be their talking cure, that we are the catharsis they need. I said, But, Dad, it was a simple mistake. We all make so many at the same age, but in a normal situation, they can't lead to anybody's dying. I put my hand on his hand. "But it was my fault." "Of course it wasn't. It was a mistake." "Yes, yes," said Harvey, humoring me, crying quietly, "if that's how you want to say it."
He woke up on a stretcher in a truck, two dead Germans either side of him, picked up from some other incident. That was the end of his war for a few weeks while he recuperated in England. When he went back, in the final months of the war, he did some remarkable things. He caught a senior Nazi, an episode I turned into idiotic comedy for a novel. He helped liberate Belsen. But it's those weeks in Normandy that are most significant to him. The mistakes he made, the things he didn't do, how lucky he was. To finish up, I asked him if he thought he was brave in Normandy.
"I wasn't brave! I wasn't asked to be brave… I wasn't Bert Scaife! I wasn't individually brave; that's how you should say it for the paper." Is that why he never spoke about it? "Not really… I s'pose when you realized you were playing your part in killing ordinary people, well, it's an awful thing to think about… and then, well, I spent a year in Germany after the war, you see, working for the army and making friends with ordinary Germans. I almost married a German girl, from the country, with a strong jaw. Lovely girl. And in her house there was a photo of her brother, in a Nazi uniform, about eighteen. He wasn't coming home. And my mate who came to visit her with me, he turned the photo to the wall. But I said no. These were just country people. There was so much evil in that war. And then they were just people like that, simple people."
***
That's the end of our interview on the tape. Afterward, he phoned me up several times to reiterate one point. He wasn't brave. I said, okay, Dad, yes, I've got that bit.
During one of these conversations, I revised my earlier question to him. If he wasn't brave, is he at least proud? "Not really. If I'd been one of the medicos on beach. Or done something like Bert Scaife did, then I'd be proud, I suppose. But I didn't."
Harvey Smith is not Bert Scaife-he wants me to make that very clear to you. When he caught that senior Nazi, his fellow soldiers wanted to kill the man. It was my father who persuaded them to settle for a lesser punishment: he set the Nazi walking in front of their tank for five miles before handing him over to the authorities. It is characteristic of Harvey that he was somewhat ashamed to tell me that story. He feels he behaved cruelly.
In sum, Harvey thinks pride a pale virtue. To his mind, an individual act either helps a little or it does not, and to be proud of it afterward helps nobody much, changes nothing. Still, I am proud of him. In the first version of this article, I wrote here: "He was a man able to retain his humanity in the most inhumane of circumstances." Later I scratched it out because humanity is these days a vainglorious, much debased word and inhumanity is a deceitful one. My generation was raised with the idea that those who pride themselves on their humanity are perfectly capable of atrocity. I think I'll put instead: he didn't lose himself in horror. Which is a special way of being brave, of bring courageous, and a quality my father shares with millions of ordinary men and women who fought that miserable war.
My father had few enthusiasms, but he loved comedy. He was a comedy nerd, though this is so common a condition in Britain as to be almost not worth mentioning. Like most Britons, Harvey gathered his family around the defunct hearth each night to watch the same half-hour comic situations repeatedly, in reruns and on video. We knew the "Dead Parrot" sketch by heart. We had the usual religious feeling for Monty Python's Life of Brian. If we were notable in any way, it was not in kind but in extent. In our wood-cabinet music center, comedy records outnumbered the Beatles. The Goons' "I'm Walking Backwards for Christmas" got an airing all year long. We liked to think of ourselves as particular, on guard against slapstick's easy laughs-Benny Hill was beneath our collective consideration. I suppose the more precise term is "comedy snobs."
Left unchecked, comedy snobbery can squeeze the joy out of the enterprise. You end up thinking of comedy as Hemingway thought of narrative: structured like an iceberg, with all the greater satisfactions fathoms underwater, while the surface pleasure of the joke is somehow the least of it. In my father, this tendency was especially pronounced. He objected to joke merchants. He was wary of the revue-style bonhomie of the popular TV double act Morecambe and Wise and disapproved of the cheery bawdiness of their rivals, the Two Ronnies. He was allergic to racial and sexual humor, to a far greater degree than any of the actual black people or women in his immediate family. Harvey's idea of a good time was the BBC sitcom Steptoe and Son, the grim tale of two mutually antagonistic "rag-and-bone" men who pass their days in a Beckettian pile of rubbish, tearing psychological strips off each other. Each episode ends with the son (a philosopher manqué, who considers himself trapped in the filthy family business) submitting to a funk of existential despair. The sadder and more desolate the comedy, the better Harvey liked it.
His favorite was Tony Hancock, a comic wedded to despair, in his life as much as in his work. (Hancock died of an overdose in 1968.) Harvey had him on vinyl: a pristine, twenty-year-old set of LPs. The series was Hancock's Half Hour, a situation comedy in which Hancock plays a broad version of himself and, to my mind, of my father: a quintessentially English, poorly educated, working-class war veteran with social and intellectual aspirations, whose fictional address-23 Railway Cuttings, East Cheam-perfectly conjures the aspirant bleakness of London's suburbs (as if Cheam were significant enough a spot to have an East). Harvey, meanwhile, could be found in 24 Athelstan Gardens, Willesden Green (a poky housing estate named after the ancient king of England), also by a railway. Hancock's heartbreaking inability to pass as a middle-class beatnik or otherwise pull himself out of the hole he was born in was a source of great mirth to Harvey, despite the fact that this was precisely his own situation. He loved Hancock's hopefulness, and loved the way he was always disappointed. He passed this love on to his children, with the result that we inherited the comic tastes of a previous generation. (Born in 1925, Harvey was old enough to be our grandfather.) Occasionally, I'd lure friends to my room and make them listen to "The Blood Donor" or "The Radio Ham." This never went well. I demanded complete silence, was in the habit of lifting the stylus and replaying a section if any incidental noise should muffle a line and generally leached all potential pleasure from the exercise with laborious explanations of the humor and said humor's possible obfus cation by period details: ration books, shillings and farthings, coins for the meter, and so on. It was a hard sell in the brave new comedic world of The Jerk and Beverly Hills Cop and Ghostbusters.
Hancock wasn't such an anachronism, as it turns out. Genealogically speaking, Harvey had his finger on the pulse of British comedy, for Hancock begot Basil Fawlty, and Fawlty begot Alan Partridge, and Partridge begot the immortal David Brent. And Hancock and his descendants served as a constant source of conversation between my father and me, a vital link between us when, classwise, and in every other wise, each year placed us further apart. As in many British families, it was university wot dunnit. When I returned home from my first term at Cambridge, we couldn't discuss the things I'd learned; about Anna Karenina, or G. E. Moore, or Gawain and his stagger ingly boring Green Knight, because Harvey had never learned them-but we could always speak of Basil. It was a conversation that lasted decades, well beyond the twelve episodes in which Basil himself is contained. The episodes were merely jumping-off points; we carried on compulsively creating Basil long after his authors had stopped. Great situation comedy expands in the imagination. For my generation, never having seen David Brent's apartment in The Office is no obstacle to conjuring up his interior decoration: the risqué Athena poster, the gigantic entertainment system, the comical fridge magnets. Similarly, for my father, imagining Basil Fawlty's school career was a creative exercise. "He would have failed his eleven-plus," Harvey once explained to me. "And that would've been the start of the trouble." When meditating on the sitcom, you extrapolate from the details, which in Britain are almost always signifiers of social class: Hancock's battered homburg, Fawlty's cravat, Partridge's driving gloves, Brent's fake Italian suits. It's a relief to be able to laugh at these things. In British comedy, the painful class dividers of real life are neutralized and exposed. In my family, at least, it was a way of talking about things we didn't want to talk about.
When Harvey was very ill, in the autumn of 2006, I went to visit him at a nursing home in the seaside town of Felixstowe, armed with the DVD boxed set of Fawlty Towers. By this point, he was long divorced from my mother, his second divorce, and was living alone on the gray East Anglian coast, far from his children. On dialysis for a decade (he lost his first kidney to stones, the second to cancer), his body now began to give up. I had meant to leave the DVDs with him, something for the empty hours alone, but when I got there, with nothing to talk about, we ended up watching them together for the umpteenth time, he on the single chair, me on the floor, cramped in that grim little nursing-home bedroom, surely the least funny place he'd ever found himself in-with the possible exception of the 1944 Normandy landings. We watched several episodes, back to back. We laughed. Never more than when Basil thrashed an Austin 1100 with the branch of a tree, an act of inspired pointlessness that seemed analogous to our own situation. And then we watched the DVD extras, in which we found an illuminating little depth charge hidden among the nostalgia and the bloopers:
It was probably-may have been-my idea that she should be a bit less posh than him, because we couldn't see otherwise what would have attracted them to each other. I have a sort of vision of her family being in catering on the south coast, you know, and her working behind a bar somewhere, he being demobbed from his national service and getting his gratuity, you know, and going in for a drink and this… barmaid behind the bar and she fancied him because he was so posh. And they sort of thought they'd get married and run a hotel together and it was all a bit sort of romantic and idealistic, and the grim reality then caught up with them.
That is the actress Prunella Scales answering a question of comic (and class) motivation that had troubled my father for twenty years: why on earth did they marry each other? A question that-given his own late, failed marriage to a Jamaican girl less than half his age-must have had a resonance beyond the laugh track. On finally hearing an answer, he gave a sigh of comedy-snob satisfaction. Not long after my visit, Harvey died, at the age of eighty-one. He had told me that he wanted "It's All Over Now, Baby Blue" played at his funeral. When the day came, I managed to remember that. I forgot which version, though (sweet, melodic Baez). What he got instead was jeering, postbreakup Dylan, which made it seem as if my mild-mannered father had gathered his friends and family with the particular aim of telling them all to fuck off from beyond the grave. As comedy, this would have raised a half smile out of Harvey, not much more. It was a little broad for his tastes.
In birth, two people go into a room and three come out. In death, one person goes in and none come out. This is a cosmic joke told by Martin Amis. I like the metaphysical absurdity it draws out of the death event, the sense that death doesn't happen at all-that it is, in fact, the opposite of a happening. There are philosophers who take this joke seriously. To their way of thinking, the only option in the face of death-in facing death's absurd nonface-is to laugh. This is not the bold, humorless laugh of the triumphant atheist, who conquers what he calls death and his own fear of it. No: this is more unhinged. It comes from the powerless, despairing realization that death cannot be conquered, defied, contemplated or even approached, because it's not there; it's only a word, signifying nothing. It's a truly funny laugh, of the laugh-or-you'll-cry variety. There is "plenty of hope, an infinite amount of hope-but not for us!" This is a cosmic joke told by Franz Kafka, a wisecrack projected into a void. When I first put the partial cremains of my father in a Tupperware sandwich box and placed it on my writing desk, that was the joke I felt like telling.
Conversely, the death we speak of and deal with every day, the death that is full of meaning, the nonabsurd death, this is a place marker, a fake, a convenient substitute. It was this sort of death that I was determined to press upon my father, as he did his dying. In my version, Harvey was dying meaningfully, in linear fashion, within a scenario stage-managed and scripted by the people around him. Neatly crafted, like an American sitcom: "The One in Which My Father Dies." It was to conclude with a real event called Death, which he would experience and for which he would be ready. I did all the usual, banal things. I brought a Dictaphone to his bedside, in order to collect the narrative of his life (this perplexed him-he couldn't see the through line). I grew furious with overworked nurses. I refused to countenance any morbidity from my father, or any despair. The funniest thing about dying is how much we, the living, ask of the dying; how we beg them to make it easy on us. At the hospital, I ingratiated myself with the doctors and threw what the British call "new money" at the situation. Harvey watched me go about my business with a puzzled half smile. To all my eager suggestions he said, "Yes, dear-if you like," for he knew well that we were dealing with the National Health Service, into which all Smiths are born and die, and my new money would mean only that exactly the same staff, in the same hospital, would administer the same treatments, though in a slightly nicer room, with a window and possibly a television. He left me to my own devices, sensing that these things made a difference to me, though they made none to him: "Yes, dear-if you like." I was still thrashing an Austin 1100 with a tree branch; he was some way beyond that. And then, when he was truly beyond it, far out on the other side of nowhere, a nurse offered me the opportunity to see the body, which I refused. That was a mistake. It left me suspended in a bad joke in which a living man inexplicably becomes two pints of dust and everyone acts as if this were not a joke at all but, rather, the most reasonable thing in the world. A body would have been usefully, concretely absurd. I would have known-or so people say-that the thing lying there on the slab wasn't my father. As it was, I missed the death, I missed the body, I got the dust and from these facts I tried to extrapolate a story, as writers will, but found myself, instead, in a kind of stasis. A moment in which nothing happened, and keeps not happening, forever. Later, I was informed, by way of comfort, that Harvey had also missed his death: he was in the middle of a sentence, joking with his nurse. "He didn't even know what hit him!" the head matron said, which was funny, too, because who the hell does?
Proximity to death inspired the manic spirit of carpe diem in the Smiths. After Harvey died, my mother met a younger man in Africa and married him. The younger of my two brothers, Luke, went to Atlanta to pursue dreams of rap stardom. Both decisions sounded like promising pilot episodes for new sitcoms. And then I tried to ring in the changes by moving to Italy. In my empty kitchen, on the eve of leaving the country, I put my finger in the dust of my father and put the dust into my mouth and swallowed it, and there was something very funny about that-I laughed as I did it. After that, it felt as if I didn't laugh again for a long time. Or do much of anything. Imagined worlds moved quite out of my reach, seemed utterly pointless, not to mention a colossal human presumption: "Yes, dear-if you like." For two years in Rome, I looked from blank computer screen to handful of dust and back again-a scenario that no one, even in Britain, could turn into a sitcom. Then, as I was preparing to leave Italy, Ben, my other brother, rang with his news. He wanted me to know that he had broken with our long-standing family tradition of passive comedy appreciation. He had decided to become a comedian.
It turns out that becoming a comedian is an act of instantaneous self-creation. There are no intermediaries blocking your way, no gallerists, publishers or distributors. Social class is a nonissue; you do not have to pass your eleven-plus. In a sense, it would have been a good career for our father, a creative man whose frequent attempts at advancement were forever thwarted, or so he felt, by his accent and his background, his lack of education, connections, luck. Of course, Harvey wasn't, in himself, funny-but you don't always have to be. In the world of comedy, if you are absolutely determined to stand on a stage for five minutes with a mike in your hand, someone in London will let you do it, if only once. Ben was determined: he'd given up the after-school youth group he had, till then, managed; he'd written material; he had tickets for me, my mother, my aunt. It was my private opinion that he'd had a minor nervous breakdown of some kind, a delayed reaction to his bereavement. I acted pleased, bought a plane ticket, flew over. Though tight as thieves as children, I'd barely seen him since Harvey died, and I sensed us settling into the attenuated relations of adult siblings, a new formal distance, always slightly abashed, for there seems no clear way, in adult life, to do justice to the intimacy of childhood. I remember being scandalized, as a child, at how rarely our parents spoke to their siblings. How was it possible? How did it happen? Then it happens to you. Thinking of him standing up there alone with a microphone, though, trying to be funny, I felt a renewed, Siamese-twin closeness: fearing for him was like fearing for me. I've never been able to bear watching anyone die onstage, never mind a blood relative. If he'd told me that it was major heart surgery he was about to have, on this makeshift stage in the tiny, dark basement of a London pub, I couldn't have been more sick about it.
It was a mixed bill. Before Ben, two men and two women performed a mildewed sketch show of unmistakable Oxbridge vintage, circa 1994. A certain brittle poshness informed their exaggerated portraits of high-strung secretaries, neurotic piano teachers, absentminded professors. They put on mustaches and wigs and walked in and out of imaginary scenarios where fewer and fewer funny things occurred. It was the comedy of things past. The girls, though dressed as girls, were no longer girls, and the boys had paunches and bald spots; the faintest trace of ancient intracomedy-troupe love affairs clung to them sadly; all the promising meetings with the BBC had come and gone. This was being done out of pure friendship now, or the memory of friendship. As I watched the unspooling horror of it, a repressed, traumatic memory resurfaced, of an audition, one that must have taken place around the time this comedy troupe was formed, very likely in the same town. This audition took the form of a breakfast meeting, a "chat about comedy" with two young men, then members of the Cambridge Footlights, now a popular British TV double act. I don't remember what it was that I said. I remember only strained smiles, the silent consumption of scrambled eggs, a feeling of human free fall. And the conclusion, which was obvious to us all. Despite having spent years at the grindstone of comedy appreciation, I wasn't funny. Not even slightly.
And now the compere was calling my brother's name. He stepped out. I felt a great wash of East Anglian fatalism, my father's trademark, pass over to me, its new custodian. Ben was dressed in his usual urban street wear, the only black man in the room. I began peeling the label off my beer bottle. I sensed at once the way he was going to play it, the same way we had played it throughout our childhood-a few degrees off whatever it was that people expected of us, when they looked at us. This evening, that strategy took the form of an opening song about the Olympics, with particular attention paid to equestrian dressage. It was funny! He was getting laughs. He pushed steadily forward, a slow, gloomy delivery that owed something to Harvey's seemingly infinite pessimism. No good can come of this. This had been Harvey's reaction to all news, no matter how objectively good that news might be, from the historic entrance of a Smith child into an actual university to the birthing of babies and the winning of prizes. When he became ill, he took a perversely British satisfaction in the diagnosis of cancer: absolutely nothing good could come of this, and the certainty of it seemed almost to calm him.
I waited, like my father, for the slipup, the flat joke. It didn't come. Ben did a minute on hip-hop, a minute on his baby daughter, a minute on his freshly minted stand-up career. Another song. I was still laughing, and so was everyone else. Finally, I felt able to look up from the beer mats to the stage. Up there I saw my brother, who is not eight, as I forever expect him to be, but thirty, and who appeared completely relaxed, as if born with mike in hand. And then it was over-no one had died.
The next time I saw Ben do stand-up was about ten gigs later, at the 2008 Edinburgh Festival Fringe. He didn't exactly die the night I turned up, but he was badly wounded. It was a shock to him, because it was the first time. In comedy terms, his cherry got popped. At first, he couldn't see why: it was the same type of venue he'd been doing in London-intimate, drunken-and, by and large, it was the same material. Why, this time, were the laughs smaller? Why, for one good joke in particular, did they not occur at all? We repaired to the bar to regroup, with all the other comedians doing the same. In comedy, the analysis of death, or near-death, experiences is a clear, unsentimental process. The discussion is technical, closer to a musician's self-analysis than to a writer's: this note was off; you missed the beat there. I knew I could say to Ben, honestly, and without fear of hurting him, "It was the pause-you went too slowly on the punch line," and he could say, "Yep," and the next night the pause would be shortened, the punch line would hit its mark. We ordered more beer. "The thing I don't understand-I don't understand what happened with the new material. I thought it was good, but… " Another comedian, who was also ordering beer, chipped in, "Did you do it first?" "Yes." "Don't do the new stuff first. Do it last. Just because you're excited by it doesn't mean it should go first. It's not ready yet."
We drank a lot, with a lot of very drunk comedians, until very late. Trying to keep up with the wisecracks and the complaints, I felt as if I'd arrived late to a battleground that had seen bloody action. The comedians had the aura of survivors, speaking the language of mutual, hard experience: venues too hot and too small, the horror of empty seats, who got nominated for what, who'd been reviewed well or badly, and, of course, the financial pain. (Some Edinburgh performers break even, most incur debts and almost no one makes a profit.) It was strange to see my brother, previously a member of my family, becoming a member of this family, all his previous concerns and principles subsumed, like theirs, into one simple but demanding question: Is it funny? And that's another reason to envy comedians: when they look at a blank page, they always know, at least, the question they need to ask themselves. I think the clarity of their aim accounts for a striking phenomenon, peculiar to comedy: the possibility of extremely rapid improvement. Comedy is a Lazarus art; you can die onstage and then rise again. It's not unusual to see a mediocre young standup in January and, seeing him again in December, discover a comedian who's found his groove, a transformed artist, a death defier.

Russell Kane, a relatively new British comic, is a death defier, the sort of comedian who won't let a moment pass without filling it with laughter. I went to see him on the last night of his Edinburgh run. His show was called Gaping Flaws, a phrase lifted from a negative online review of his 2007 Edinburgh show, which, in turn, was called Easy Cliché and Tired Stereotype, a phrase lifted from a negative review of his debut 2006 show, Russell Kane's Theory of Pretension. All these reviews came from the same man, Steve Bennett, a prominent British comedy critic who writes for the Web site Chortle. The problem with Kane was class-the British problem. A self-defined working-class "Essex boy" (though, physically, his look is more indie Americana than English suburbia; he's a dead ringer for the singer Anthony Kiedis), he centers his act on the tricky business of being the alien in the family, the wannabe intellectual son of a working-class, bigoted father. To his father, Kane's passion for reading is deeply suspicious, his interest in the arts tantamount to an admission of sexual deviancy. Kane's dilemma has a natural flip side, a typically British ressentiment for those very people his sensibilities have moved him toward. The middle classes, the Guardianistas (readers of the left-leaning liberal newspaper The Guardian), the smug elites who have made him feel his class in the first place. Can't go home, can't leave home: a subject close to my heart.
In 2006, Kane played this material too broadly, overexploiting a natural gift for grotesque physical comedy: his father was a hulking deformed monster, the Guardianistas fey fools, skipping across the stage. In 2007, the chip on his shoulder was still there, but the ideas were better, the portraits more detailed, more refined; he began to find his balance, which is a rare mixture of inspired verbal sparring and effective physical comedy. Third time's the charm: Gaping Flaws had almost none. It was still all about class, but some magical integration had occurred. I couldn't help being struck by the sense that what it might take a novelist a lifetime to achieve a bright comedian can resolve in three seasons. (How to present a working-class experience to the middle classes without diluting it. How to stay angry without letting anger distort your work. How to be funny about the most serious things.)
Audiences love death defiers like Kane. It's what they pay their money for, after all: laughs per minute. They tend to be less fond of those comedians who have themselves tired of the nonstop laughter and pine for a little silence. I want to call it "comedy nausea." Comedy nausea is the extreme incarnation of what my father felt: not only is joke telling a cheap art; the whole business of stand-up is, in some sense, a shameful cheat. For a comedian of this kind, I imagine it feels like a love affair gone wrong. You start out wanting people to laugh in exactly the places you mean them to laugh, then they always laugh where you want them to laugh-then you start to hate them for it. Sometimes the feeling is temporary. The comedian returns to stand-up and finds new joy in, and respect for, the art of death defying. Sometimes, as with Peter Cook (voted, by his fellow comedians, in a British poll, the greatest comedian of all time), comedy nausea turns terminal, and only the most difficult laugh in the world will satisfy. Toward the end of his life, when his professional comedy output was practically nil, Cook made a series of phone calls to a radio call-in show, using the pseudonym Sven from Swiss Cottage (an area of northwest London), during which he discussed melancholy Norwegian matters in a thick Norwegian accent, some of the funniest and bleakest "work" he ever did.
At the extreme end of this sensibility lies the anticomedian. An anticomedian not only allows death onstage; he invites death up. Andy Kaufman was an anticomedian. So was Lenny Bruce. Tommy Cooper is the great British example. His comedy persona was "inept magician." He did intentionally bad magic tricks and told surreal jokes that played like Zen koans. He actually died onstage, collapsing from a heart attack during a 1984 live TV broadcast. I was nine, watching it on telly with Harvey. When Cooper fell over, we laughed and laughed, along with the rest of Britain, realizing only when the show cut to the commercial break that he wasn't kidding.
***
There was an anticomedian at Edinburgh this year. His name was Edward Aczel. You will not have heard of him-neither had I; neither has practically anyone. This was only his second Edinburgh appearance. Maybe it was the fortuitous meeting of my mournful mood and his morbid material, but I thought his show, Do I Really Have to Communicate with You?, was one of the strangest, and finest, hours of live comedy I'd ever seen. It started with neither a bang nor a whimper. It didn't really start. We, the audience, sat in nervous silence in a tiny, dark room, and waited. Some fumbling with a cassette recorder was heard, faint music, someone mumbling backstage: "Welcome to the stage… Edward Aczel." Said without enthusiasm. A man wandered out. Going bald, early forties, schlubby, entirely nondescript. He said, "All right?" in a hopeless sort of way, and then decided that he wanted to do the introduction again. He went offstage and came on again. He did this several times. Despair settled over the room. Finally, he fixed himself in front of the microphone. "I think you'll all recall," he muttered, barely audible, "the words of Wittgenstein, the great twentieth-century philosopher, who said, 'If indeed mankind came to earth for a specific reason, it certainly wasn't to enjoy ourselves.' " A long, almost unbearable pause. "If you could bear that in mind while I'm on, I'd certainly appreciate it." Then, on a large flip chart, the kind of thing an account manager in an Aylesbury marketing agency might swipe from his office (Aczel is, in real life, an account manager for an Aylesbury marketing agency), he began to write with a Magic Marker. It was a list of what not to expect from his show. He went through it with us. There was to be
No nudity.
No juggling.
No impressions of any well-known people.
No reference to crop circles during the show.
No one will be conceived during the show.
No tackling head-on of any controversial issues…
And finally, and I think most important-
No refunds.
I recognized my father's spirit in this list: No good can come of this. He then told us that he had a box of jigsaw puzzles backstage, for anyone who became dangerously bored. Later, he drew a graph made up of an x-axis, which stood for "TIME," and a y-axis, for "GOODWILL," on which he tracked the show's progress. Point one, low down: "Let's all go and get a drink-this is pointless." Point two, slightly higher up: "O.K., carry on, whatever." Point three, still only halfway up: "We could all be here forever. We think this is great." He looked at his shoes, then, with mild aggression, at the audience. "We'll never get to that point," he said. "It's just… it'll never happen." By this time, everyone was laughing, but the laughter was a little crazy, disjointed. It's a reckless thing, for a comedian, to be this honest with an audience. To say, in effect, "Whatever I do, whatever you do, we're all going to die." When it finally came to jokes ("Now we go into the section of the show routinely called 'material,' for obvious reasons"), Aczel had a dozen written on his hand, and they were very funny, but by now he had already convinced us that jokes were the least of what could be done here. It was an easy and wonderful thing to believe this show a genuine shambles, saved only by our attention and by chance. (We were mistaken, of course. Every stumble, every murmur, is identical, every night.) In the lobby afterward, calendars were on sale, each month illustrated by impossibly banal photographs of Aczel in bed, washing his face, walking into work, standing in the road. Mine sits on my desk, next to my father in his Tupperware sandwich box. On the cover, Aczel is pictured in a supermarket aisle. The subtitle reads, "Life is endless, until you die"-Edith Piaf. Each month has a message for me. November: "Winter is coming-Yes!" April: "Who cares." June: "This is not the life I was promised." There is plenty of hope, an infinite amount of hope-but not for us!
On the last night of the Edinburgh festival, in another small, dark, drunken venue, I waited for my brother to go on. It was about two in the morning. Only comedians were left at the festival; the audiences had all gone home. I feared for him, again-but he did his set, and he killed. He was relaxed. There was nothing riding on his performance; the pause had been fixed. Then a young Australian dude came on and spoke a lot about bottle openers, and he killed, too. Maybe everybody kills at two in the morning. Then the end of the end: one last comedian took the bar stage. This was Andy Zaltzman, a great, tall man with an electrified Einstein hairdo and a cutting, political-satirical act that got its laughs per minute. He set to work, confident, funny, and instantly got heckled, a heckle that was followed by a collective audience intake of breath, for the heckler was Daniel Kitson, a rather shy, whimsical young comedian from Yorkshire who looks like a beardy cross between a fisherman and a geography teacher. Kitson won the Perrier Comedy Award in 2002, at the age of twenty-five, and his gift is for the crafting of exquisite narratives, shows shaped like Alice Munro stories, bathetic and beautiful. A comedy-snob thrill passed through the room. It was a bit like Nick Drake turning up at a James Taylor gig. Kitson good-humoredly heckled Zaltzman, and Zaltzman heckled back. Their ideas went spiraling down nonsensical paths, collided, did battle and separated. Kitson busied himself handing out fliers for "Our joint show, tomorrow!"-a show that couldn't exist, because the festival was over. We all took one. Zaltzman and Kitson got loose; the jokes were everywhere, with everyone, the whole room becoming comedy. There was a kind of hysteria abroad. I looked over at my brother and could see that he'd got this abdominal pain, too, and we were both doubled over, crying, and I wished Harvey were there, and at the same moment I felt something come free in me.
I have to confess to an earlier comic embellishment: my father is no longer in a Tupperware sandwich box. He was, for a year, but then I bought a pretty Italian art deco vase for him, completely see-through, so I can see through to him. The vase is posh, and not funny like the sandwich box, but I decided that what Harvey didn't have much of in life he would get in death. In life, he found Britain hard. It was a nation divided by postcodes and accents, schools and last names. The humor of its people helped make it bearable. You don't have to be funny to live here, but it helps. Hancock, Fawlty, Partridge, Brent: in my mind, they're all clinging to the middle rungs of England's class ladder. That, in large part, is the comedy of their situations.
For eighty-one years, my father was up to the same game, though his situation wasn't so comical; at least, the living of it wasn't. Listen, I'll tell you a joke: his mother had been in service, his father worked on the buses; he passed the grammar-school exam, but the cost of the uniform for the secondary school was outside the family's budget. No, wait, it gets better: at thirteen, he left school to fill the inkwells in a lawyer's office, to set the fire in the grate. At seventeen, he went to fight in the Second World War. In the fifties, he got married, started a family and, finding that he had a good eye, tried commercial photography. His pictures were good, he set up a little studio, but then his business partner stiffed him in some dark plot of which he would never speak. His marriage ended. And here's the kicker: in the sixties, he had to start all over again, as a salesman. In the seventies, he married for the second time. A new lot of children arrived. The high point was the late eighties, a senior salesman now at a direct-mail company-selling paper, just like David Brent. Finally, the (lower) middle rung! A maisonette, half a garden, a sweet deal with a local piano teacher who taught Ben and me together, two bums squeezed onto the piano stool. But it didn't last, and the second marriage didn't last, and he ended up with little more than he had started with. Listening to my first novel on tape, and hearing the rough arc of his life in the character Archie Jones, he took it well, seeing the parallels but also the difference: "He had better luck than me!" The novel was billed as comic fiction. To Harvey, it sat firmly in the laugh-or-you'll-cry genre. And when that Fawlty Towers boxed set came back to me as my only inheritance (along with a cardigan, several atlases, and a photograph of Venice), I did a little of both.
Zora Neale Hurston: What Does Soulful Mean?" was originally conceived as an introduction for the Virago edition of Their Eyes Were Watching God and appeared subsequently in a revised version in The Guardian. "Middlemarch and Everybody" and "Hepburn and Garbo" were first published in The Guardian. "E. M. Forster: Middle Manager," "F. Kafka, Everyman" and "Two Directions for the Novel" were published in The New York Review of Books. "Speaking in Tongues" was given as the 2008 Robert B. Silvers Lecture at the New York Public Library and published in a revised version by The New York Review of Books. "That Crafty Feeling" was given as a lecture at Columbia University, commissioned by Ben Marcus, and later published in The Believer. A revised version appears here. "One Week in Liberia" was the fruit of a trip organized and funded by Oxfam. It was published by The Observer. "At the Multiplex, 2006" and "Notes on Oscar Weekend" were published by The Sunday Telegraph. "Accidental Hero" appeared in a short version in The Sunday Telegraph and appears in full here. "Smith Family Christmas" was commissioned by The New York Times and "Dead Man Laughing" was published by The New Yorker. "Rereading Barthes and Nabokov" began life as a lecture, given at Harvard University, although it has been revised so extensively almost nothing of the original remains.
I am grateful to my editors, Simon Prosser and Ann Godoff, and to my agent, Georgia Garrett, for all their efforts on my behalf over the past ten years. For the help and advice I received on individual essays I thank Devorah Baum, Tom Bissell, Mark Costello, Hadley Freeman, Bret Gladstone, Mary Karr, Lee Klein, Cressida Leyshon, Lee Rourke, Lorin Stein, Martina Testa, Adam Thirlwell and Sunil Yapa. Particular thanks to Bob Silvers for sending interesting books and projects my way, and for so many ingenious edits. Special thanks to Lysbeth Holdaway for her guidance in Liberia.
My greatest debt, as ever, is to Nick Laird, my best reader and fiercest editor. Your work on this book-and support of its author-were essential.
Aczel, Edward
Adams, J. Donald
Adam's Rib (film)
Adomitis, Dan
"Adult World" (Wallace)
Alix, Patrick
Allen, Woody
American Colonization Society
Americo-Liberians (Congos)
Amis, Kingsley
Amis, Martin
Anna Karenina (film)
Another Country (Baldwin)
Antonioni, Michelangelo
Apicella, Tina
Aristotle
Arnold, Matthew
Ash Wednesday (Eliot)
Astaire, Fred
Atrocity Exhibition, The (Ballard)
Auden, W. H.
Austen, Jane
authenticity
Author
death of
lack of control of
as modern figure
privilege of
Autograph Man, The (Smith)
Bacall, Lauren
Baez, Joan
Baldwin, James
Ballard, J. G.
Balzac, Honoré de
Bana, Eric
Barth, John
Barthelme, Donald
Barthes, Roland
as left wing
on modernity of concept of author
see also Author, death of
Bauer, Felice
BBC Talks of E. M. Forster, The
Beckett, Samuel
Begley, Louis
Bellissima (film)
Bellow, Saul
Benjamin, Walter
Bennet, Elizabeth (char.)
Bhagavad Gita
Billy Budd (Melville)
Blasetti, Alessandro
Bleak House (Dickens)
"Blood Donor, The,"
Blood on the Tracks (album)
Bluest Eye, The (Morrison)
Bogart, Humphrey
Borges, Jorge Luis
Bovary, Emma (char.)
Boyd, Valerie
Brief Encounter (film)
Brief Interviews with Hideous Men (Wallace)
bad reviews of
#2
#20
#42
#48
#59
Brod, Max
Brokeback Mountain (film)
Brooke, Dorothea (char.)
Brownell, John
Buffy the Vampire Slayer (TV show)
Byron, George Gordon, Lord
Camille (film)
Capote, Truman
Capote (film)
"Cares of a Family Man, The" (Kafka)
Carver, Raymond
Casanova (film)
Cash, Johnny
Cassavetes, John
Causabon (char.)
Cherry Orchard, The (Chekhov)
Chicago (film)
Chomsky, Noam
"Christabel" (Coleridge)
Christie, Agatha
Christopher Strong (film)
"Church Not Made with Hands" (Wallace)
Citizen Kane (film)
Clooney, George
Close Encounters of the Third Kind (film)
"Coeur Simple, Un" (Flaubert)
Colbert, Claudette
Coleman, Ella
Coleridge, Samuel Taylor
Confessions of a Dangerous Mind (film)
Congos
Connecticut Yankee in King Arthur's Court, A (film)
Conneh, Abraham Paye
constructive deconstruction
Conversations with Kafka (Janouch)
Coover, Robert
Coupland, Douglas
Craig, Daniel
Crawford, Joan
cricket
Critchley, Simon
Crosby, Bing
Crouching Tiger, Hidden Dragon (film)
Cukor, George
Damon, Matt
Dangerous Liaisons
Date Movie (film)
"Datum Centurio" (Wallace)
Davis, Bette
de Acosta, Mercedes
"Dead Parrot" sketch
"Death of the Author, The" (Barthes)
"Death Is Not the End" (Wallace)
"Death of Ivan Ilyich, The" (Tolstoy)
de Chirico, Giorgio
Defense Ministry, Liberian
Deleuze, Gilles
DeLillo, Don
De Niro, Robert
Denzil (uncle)
"Depressed Person, The" (Wallace)
Derrida, Jacques
De Sica, Vittorio
"Devil Is a Busy Man, The" (Wallace)
DiCaprio, Leonardo
Dickens, Charles
Dickinson, Goldsworthy Lowes
Didion, Joan
Dietrich, Marlene
"Dockery and Son" (Larkin)
Doe, Samuel
Do I Really Have to Communicate with You?
Don Bosco Homes
Doolittle, Eliza (char.)
Dostoyevsky, Fyodor
Dreams from My Father (Obama)
Dust Tracks on a Road (Hurston)
Dylan, Bob
Easy Cliché and Tired Stereotype
Edinburgh Festival Fringe
Edward R. Murrow: An American Original (Persico)
Eliot, George
advice given by
experience and
journal of
religious views of
romantic failings of
as writer of ideas
Eliot, T. S.
Eliser d'amore' (opera)
Ellis, Bret Easton
Elphinstone, Major
Emerson, George (char.)
"Enactor" (char.)
"End and the Beginning, The" (Szymborska)
End of History and the Last Man, The (Fukuyuma)
E. T. (film)
Ethics (Spinoza)
Evans, Marian. See Eliot, George
Everything and More: A Compact History of Infinity (Wallace)
Failure to Launch (film)
Faith of My Fathers (McCain)
Fawlty Towers (TV show)
Fellini, Federico
Finnegans Wake (Joyce)
Firestone
Fitzgerald, F. Scott
Flaubert, Gustave
Flesh and the Devil (film)
Flomo, John
"Forever Overhead" (Wallace)
Forster, E. M.
aesthetics of
concept of audience of
connection as theme of
conversational tone in broadcasts of
homosexuality of
simplicity vs. complexity in
social and political views of
Foucault, Michel
Frankl, Viktor
Freud, Sigmund
Freudianism
Friedberg, Jason
Gaddis, William
Gaghan, Stephen
Gaping Flaws
Garbo, Greta
Gardner, Ava
Garth, Mary (char.)
Genet, Jean
Get Rich or Die Tryin' (film)
Ghanam, Kamal E.
Gift, The (Hyde)
Gift, The (Nabokov)
Gilbert, John
Goethe, Johann Wolfgang von
Good Night, and Good Luck (film)
Goons, The
Grable, Betty
Grand Hotel (film)
Granola Cruncher (char.)
Grant, Cary
Gravity's Rainbow (Pynchon)
Great Escape, The (film)
Greenblatt, Stephen
Greene, Graham
Grizzly Man (film)
Guess Who's Coming to Dinner (film)
Gyllenhaal, Jake
Haiti
Hall, Maurice (char.)
Hancock, Tony
Hancock's Half Hour
Hannigan, Alyson
Hard Times (Dickens)
Hayworth, Rita
Health Ministry, Liberian
Heidegger, Martin
Henry, Thierry
Hepburn, Audrey
Hepburn, Katharine
Oscar nominations of
Herriton, Philip (char.)
Hickock, Dick
Hicks, Amos (char.)
Hidden (film)
Higgins, Henry (char.)
High Society (film)
"High Windows" (Larkin)
History of Western Philosophy (Russell)
Hitchcock, Alfred
Hoffman, Philip Seymour
Hofmann, Michael
Holdaway, Lysbeth
Homer
Honeychurch, Lucy (char.)
Howards End (Forster)
How Not to Dress
Huffman, Felicity
"Human Personality" (Weil)
Hurston, Zora Neal
"I'm Walking Backwards for Christmas" (song)
In Cold Blood (film)
Infinite Jest (Wallace)
International Necronautical Society (INS)
Iraq War
Isherwood, Christopher
"It's All Over Now, Baby Blue" (song)
"It's Too Late" (song)
Jack, Richard S.
Jackson, Curtis "50 Cent,"
Jackson, Jesse
James, Henry
Janáček, Leoö
Jane Eyre (Brontë)
Janie (char.)
Jealousy (Robbe-Grillet)
Jesenská, Milena
Jews
Johnson-Sirleaf, Ellen
"Joint Statement of Inauthenticity, The,"
Jolie, Angelina
Joyce, James
"Judgment, The" (Kafka)
Kael, Pauline
Kafka, Franz
as allegedly self-hating Jew
Brod's friendship with
brothels visited by
descriptions of
diary of
letters of
organization of day of
and request for burning of work
revision of ideas on
time in
unconventionality of
on women
at work
Kant, Immanuel
Keats, John
Kelly, Grace
Kennedy, Robert
Kiedis, Anthony
King, Carole
King, Martin Luther
"Kubla Khan" (Coleridge)
Kundera, Milan
Kushner, Tony
Ladislaw (char.)
Lakes, The
Lancaster, Burt
Larkin, Philip
Lawrence. H.
League of Nations
Lean, David
Lectures on Literature (Nabokov)
Ledger, Heath
Lee, Harper
Lennon, John
Lermontov, Mikhail
Letter to My Father (Kafka)
Lewes, George
Li, Gong
Liberia
civil war in
education in
ex-combatants in
independence declared by
1980 coup in
poverty in
rubber workers in
UN sex abuse scandal in
Liberia Baptist Theological Seminary
Liberia: The Heart of Darkness
"Literary World, The" (Larkin)
Little Women (film)
Lloyd, David
Locke, John
logotherapy
Lolita (Nabokov)
Lydgate, Dr. (char.)
Lynch, David
Macaulay, Rose
Macaulay, Thomas
McCain, John
MacCarthy, Desmond
McCarthy, Joseph
McCarthy, Tom
Macro Planners
Magic Flute, The (Dickinson)
Magnani, Anna
Malinke tribes
Mamba Point Hotel
Mansfield, Katherine
Mansfield Park (Austen)
Man's Search for Meaning (Frankl)
Marshall, Rob
Martin, Steve
Matrix trilogy
Maugham, Somerset
Maurice (Forster)
Mayer, Louis B.
Melville, Herman
Memoirs of a Geisha (film)
Men in Space (McCarthy)
metafiction
Micro Managers
Middlemarch (Eliot)
authorial attention in
subjectivity of
Milton, John
Miss Brooke (Eliot)
Mittal Steel
Monroe, Marilyn
Monty Python's Life of Brian (film)
Morecambe and Wise
Moss, Annie
Motion, Andrew
Mozart, Wolfgang Amadeus
Munich (film)
Murrow, Edward R.
Nabokov, Vera
Nabokov, Vladimir
artistic style of
authorial privilege and
on Gregor Samsa
on inspiration
on knowledge of reality
on subjectivity
Naipaul. S.
"Natural Woman" (song)
Negative Capability
neorealismo
Netherland (O'Neill)
Neugroschel, Joachim
Newbolt, Henry
New Yorker
New York Times Book Review
Nimba
Ninotchka (film)
"No More Parades" (Amis)
Normandy
nouveau roman
novels:
architecture of
editing of
first twenty pages of
future of
middle of
proofs of
scaffolding of
Obama, Barack
Oblivion (Wallace)
obsessive perspective disorder (OPD)
Ocean's Eleven (film)
Ocean's Twelve (film)
"Octet" (Wallace)
Office, The (TV show)
"Old Fools, The" (Larkin)
On Beauty (Smith)
One Day in September (film)
"On His Deathbed, Holding Your Hand" (Wallace)
Oscars
Oxfam
Pale King, The (Wallace)
Paltrow, Gwyneth
Parker, Dorothy
Pat and Mike (film)
Paynesville School
Perec, Georges
Père Goriot (Balzac)
Perkins, Maxwell
Pervert's Guide to Cinema (iek)
Pessoa, Fernando António Nogueia
Philadelphia Story, The (film)
"Philosophical Investigations" (Wittgenstein)
Phoenix, Joaquin
Picasso, Pablo
Pickering, Colonel (char.)
Plath, Sylvia
Plato
Pleasure of the Text, The (Barthes)
Pnin (Nabokov)
Pniniad (Diment)
Pope, Alexander
Portman, Natalie
poshlust
Pretty Woman (film)
Pride and Prejudice (Austen)
Princess Casamassima, The (James)
Proof (film)
Pygmalion (Shaw)
Pynchon, Thomas
Queen Christina (film)
Queen Victoria (Strachey)
Ramkissoon, Chuck
readers, reading:
as creative
ideal
pleasures of
Rear Window
"Reenactor" (char.)
Remainder (McCarthy)
self-ridiculing humor of
space in
"Rhyme of the Ancient Mariner, The" (Coleridge)
Robbe-Grillet, Alain
Romance & Cigarettes (film)
Room with a View, A (Forster)
Roth, Philip
Rush, Geoffrey
Sade, Marquis de
Saga of Gosta Berling, The (film)
Samsa, Gregor (char.)
Samways, Phil
Sartre, Jean-Paul
Saving Private Ryan (film)
Scaife, Bert
Scudder, Alex (char.)
See It Now (TV show)
"Self's the Man" (Larkin)
Selznick, David O.
Sentimental Education, A (Flaubert)
Seraph on the Suwanee (Hurston)
Shakespeare, William
Shaw, George Bernard
Shopgirl (film)
Sierra Leone
"Signifying Nothing" (Wallace)
"Silly Novels by Lady Novelists" (Eliot)
Smith, Ben
comedy act of
Smith, Harvey
ashes of
background of
comedy enjoyed by
death of
fatalism and pessimism of
in World War II,
Smith, Luke
Smith, Perry
solipsism
Spielberg, Steven
Spinoza, Baruch
Starks, Joe (char.)
Stewart, Jimmy
Stiller, Mauritz
Stop! Or My Mom Will Shoot (film)
Strong Opinions (Nabokov)
Suddenly, Last Summer (film)
"Suicide as a Sort of Present" (Wallace)
Sunday Telegraph
Sylvia Scarlett (film)
Syriana (film)
S/Z (Barthes)
Szymborska, Wislawa
Tapestry (album)
Taylor, Charles
text:
codes in
indeterminacy of
readerly
writerly
Thalberg, Irving
Their Eyes Were Watching God (Hurston)
Theron, Charlize
"Think" (Wallace)
Thirlwell, Adam
Tolbert, William
Tolstoy, Leo
"Tractatus Logico-Philosophicus" (Wittgenstein)
Tracy, Spencer
Traffic (film)
Transamerica (film)
Treadwell, Timothy
Tremendous World I Have Inside My Head, The: Franz Kafka: A Biographical Essay (Begley)
Trial, The (Kafka)
"Triple Dream, The" (Lermontov)
"Tri-Stan: I Sold Sissee Nar to Ecko" (Wallace)
True Whig Party
Tsotsi (film)
Tubman, William
Turturro, John
Two-Faced Woman (film)
Two Ronnies
Unity Temple
Valentino, Rudolph
Valéry, Paul
Vallon, Annette
van den Broek, Hans (char.)
van den Broek, Rachel (char.)
Van Eyck, Hubert
vdokhnovenie (recapture)
V for Vendetta (film)
Vincy, Fred (char.)
Vincy, Rosamund (char.)
Virgil
Visconti, Luchino
Vitti, Monica
vorstog (initial rapture)
Vyas, Nazrul Ram (char.)
Wade, Aubrey
Walker, Alice
Walk the Line (film)
Wallace, David Foster
commencement speech of
difficulties of
insistence on awareness in work of
Larkin's poetry and
linguistic specialization in work of
MacArthur won by
parables of
"self" in work of
Wasteland, The (Eliot)
Watanabe, Ken
"Water" (Larkin)
Waugh, Evelyn
Weil, Simone
Wells, H. G.
Werfel, Franz
West Point
"What I Believe" (broadcast)
Where Angels Fear to Tread (Forster)
White Teeth (Smith)
Wide Sargasso Sea (Rhys)
Wilcox, Henry (char.)
Wilkerson, Mr.
Willesden
Wilton, Penelope
Witherspoon, Reese
Wittgenstein, Ludwig
Wodehouse, P. G.
Women and Children Development Association of Liberia (WOCDAL)
Women Love Diamonds (film)
Woods, Vergible "Tea Cake" (char.)
Woolf, Virginia
Wordsworth, William
World Is Not Enough, The (film)
World War II
World Wildlife Fund
Wrapped in Rainbows: The Life of Zora Neale Hurston (Boyd)
Wright, Frank Lloyd
writers, writing:
inspiration of
pleasures of
Wyllie, David
Yates, Richard
Yeats, William Butler
Yeoh, Michelle
"Yet Another Example of the Porousness of Certain Borders (XI)" (Wallace)
"You've Got a Friend" (song)
Zaltzman, Andy
Zellweger, Renée
Zhang, Ziyi
Zikeh, Nyan P.
Zischler, Hanns
Ziek, Slavoj
Zora Neale Hurston: A Life Letters
Zurer, Ayelet
---