1.3.1.9. General questions
If you have not already configured the network, and you have a network adapter installed in your system, the network configuration screen appears next, as shown in Figure 1-24 .
Figure 1-24. Network configuration screen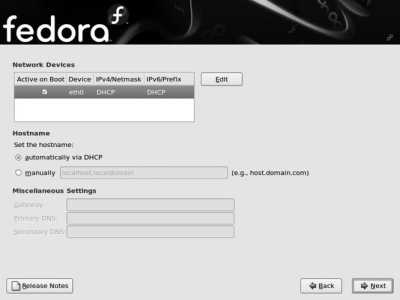 If you have a DHCP server on your networkwhich is the case in most large networks and in most small office and home networks that have a broadband Internet gateway/router devicethen you will only need to change the "Set the hostname" option to "manually" and then enter the hostname of your choice (unless your DHCP server sets the hostname for you). If you have a registered domain, choose a hostname within that domain, such as bluesky.fedorabook.com (which specifies the host bluesky within the domain fedorabook.com ); otherwise, choose a hostname and append .localdomain to the end of the name.
If you do not have a DHCP server on your network, select your primary Ethernet card from the Network Devices list and then click Edit. You will see the Edit interface window shown in Figure 1-25 . Click on the "Configure using DHCP " option to deselect that checkbox, then enter the IP address and netmask. Click OK to save this information, and enter the hostname, gateway, and DNS server information in the blanks provided (it is necessary only to enter a Primary DNS server).
Figure 1-25. Edit interface window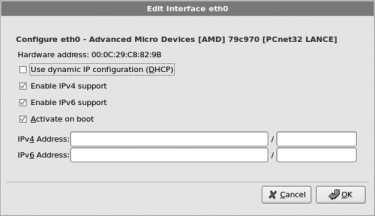 Click Next to proceed to the next step in the installation, which is time zone selection, as shown in Figure 1-26 .
Figure 1-26. Time zone selection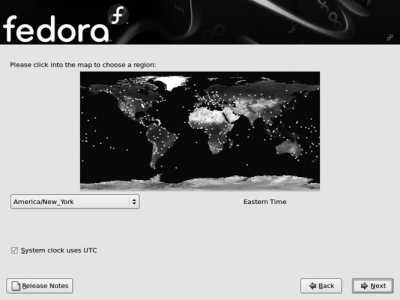 Click on your region of the map to zoom in, and then click on the major city closest to your locationor use the pull-down menu to select your time zone.
You can choose to configure the system's hardware clock to store information in local time or in Coordinated Universal Time (UTC). This is controlled by the checkbox labeled "System clock uses UTC." If you are using multiple operating systems on your computer (dual-boot), to use local time, deselect the checkbox so that the other operating system will interpret the time correctly.
If you are using only Fedora, or Fedora and another distribution of Linux, choose UTC by selecting the checkbox. This will avoid multiple adjustments of the clock when entering or exiting daylight savings time.
Click Next to proceed.
The screen in Figure 1-27 requests that you enter a root password for the system (twice). This is the master system administration password, so be sure to safeguard it against both theft and loss.
Choose passwords that are easy for you to remember but hard for others to guess. One way to do this it to choose a line or verse from a song, poem, book, or play, and use the first letter from each word plus the punctuation marks. For example, from Shakespeare's line "Do you bite your thumb at us, sir?" you would derive the password Dybytau,s? 
Figure 1-27. Creating a root password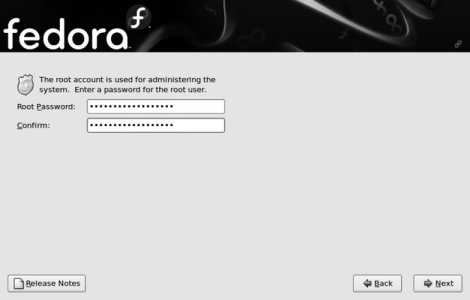 1.3.1.8. Partitioning layout | Fedora Linux | 1.3.1.10. Software selection


---
Loading...