1.3.1.6. Upgrading a Fedora installation
The installation program will check to see if you have an existing Fedora installation; if you do, it will offer you the option of upgrading the current system instead of performing a new installation (Figure 1-11).
Figure 1-11. Upgrade option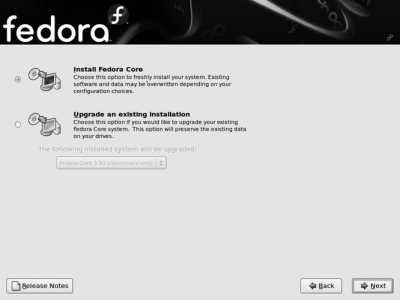 Choose Install Fedora Core if you want to replace your existing installation, or "Upgrade an existing installation" if you want to upgrade your existing Fedora system to Fedora Core 6. Click Next.
This dialog may appear if you previously started a Fedora installation, but aborted the installation process before it was finished (producing a partially installed system). In that case, choose Install rather than Upgrade to ensure that the new system is complete.
If you have an existing Fedora installation and you want to replace it with Fedora Core 6, but you wish to preserve the data in your home directories, and the home directories have their own filesystem or partition, you can choose Upgrade. 
If you choose Install, skip to the next section titled "Performing a New Fedora Installation." Otherwise, the screen shown in Figure 1-12 will appear, asking what you want to do with the bootloader configuration.
Figure 1-12. Bootloader configuration during upgrade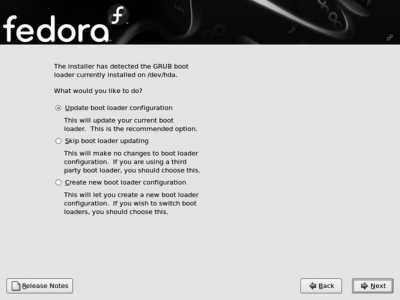 Choose an option based on your current bootloader:
Update boot loader configuration
Use this if your previous installation installed the GRUB bootloader (the default for recent versions of Fedora Core).
Skip boot loader updating
Use this if you are using a third-party bootloader program. You will need to refer to your bootloader documentation to determine how to update the bootloader manually.
Create new boot loader configuration
Select this option if you are using the older LILO bootloader. The installation system will replace LILO with GRUB.
Click Next. After a few seconds, the screen shown in Figure 1-13 will appear.
Figure 1-13. Fedora installation confirmation screen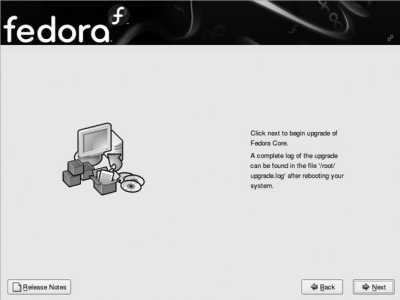 This is the point of no return. Click Next to proceed with the upgrade, but remember that the upgrade process must run to completion and cannot be safely interrupted. The Fedora installer will analyze the software installed in your existing Fedora system, determine what needs to be updated, and install the new packages.
1.3.1.5. Installation stage 2 | Fedora Linux | 1.3.1.7. Performing a new Fedora installation


---
Loading...